OS Locksmith is one of the leading locksmith companies. We provide commercial locksmith services to new construction projects, property management companies, real estate agencies, architects and interior designers, retail stores,  restaurants, schools, universities, medical facilities, apartment complexes, small businesses and numerous other commercial facilities.
Whether you are a business owner or responsible for a retail store, warehouse, single office, entire office building, or other commercial space, OS Locksmith can provide high-quality commercial locksmith services and security solutions according to your needs and building requirements.
Commercial Services
Our goal is to make you feel secure and safe. We install, fix and service all kind of locks for your needs and we will provide you a solution for any security issue.
Services included:
| | |
| --- | --- |
| »  Lock Opening | »  Mailbox Locks |
| »  Lock Installation | »  High Security Locks |
| »  Lock Repair | »  Keypad Locks |
| »  Lock Rekey | »  Pad Locks |
| »  Garage Locks |   |
| »  Key Cutting / Duplicate |   |
COMMERCIAL LOCKOUT SERVICES
Being locked out of your business can disrupt your schedule, costing you time and money. Any business needs to make sure that locks are working and that malfunctioning locks are fixed or replaced as soon as possible. In the event of lockouts, immediate solutions are required.
OS Locksmoth offers efficient commercial lockout services to get you back into your business, and restore your business' security and productivity.
All Businesses, Any Type of Lock
We provide commercial lockout services for all different sizes and kinds of businesses, from small shops, to office complexes, to large factories and industrial facilities.
We can gain entry to buildings and unlock doors, safes, mailboxes, cabinets, lockers, storage units and more. Our locksmiths have experience working with all lock types and lock brands, including high security locks, deadbolt locks, mortise locks and master key systems.
Locked Out of Your Business?
If you are locked out of your business, office or store, OS Locksmith can help! We offer fast, 24/7 response for commercial lockouts.
Our fully qualified and licensed locksmiths will come to your location as soon as possible to get you back into your business. They will then repair or replace broken locks to bring security back up to scratch.
If you are locked out of your business, give OS Locksmith  a call for a fast and effective solution at an affordable price.
You may require our lock installation services when you have new doors, when you want locks adding to your existing doors for extra security, when you think it's time for an upgrade, or in response to an insurance request. Whatever the reason, our locksmiths are always here to help!
CHOOSING THE RIGHT LOCK
Homes and businesses require different locks and security features. OS Locksmith can suggest the best lock for your doors, needs and budget. We only install the highest quality locks made by the leading manufacturers in the industry. Once you have chosen your locks, our trained and licensed locksmiths will carry out professional installation.
Commercial Lock Installation
Commercial locks need to be more strong and durable than residential locks. Whether you are looking to installing locks to improve your business security, or upgrading to an electronic keyless and smart lock solution, our locksmiths can provide the advice and installation. We will help you choose the best commercial lock according to your needs and the type of door (storefronts, back doors, glass doors, metal doors, wood doors and more). Door locks for business, office or other commercial space.
By choosing us, you take advantage of the following benefits:
Efficient and fast lock installation process handled by trained and experienced locksmiths.
From traditional locks to electronic keyless locks, we have knowledge and experience of installing all types of locks, including: deadbolt locks, mortise locks, cylindrical locks, smart locks, fingerprint biometric locks, magnetic locks, caninet locks and more.
We work only with products that are made with high-quality standards to secure your property effectively.
At the end of the work, we ensure that everything is functioning correctly. We take the time to help and assist you in operating your new locks before we finally leave.
Contact OS Locksmith today to find out more about our new lock installation or any of our services, or to arrange a consultation with our security experts.
No matter what your business deals with, you need strong and durable locks to protect your business. Period.
OS Locksmith offers professional commercial locks grade 1 installations, repairs and replacements.
We understand that every business is different. There is no one lock fits all business needs. Whether you interested in installing a new lock on storefront, replacing door locks on new office space or upgrading your traditional locks to electronic keyless and smart locks, our security locks experts will help you choose the right locks based on your needs.
We offer commercial locks services to businesses, offices, retail stores, restaurants, warehouse spaces, schools and universities, hospitals and medical clinics, industrial facilities, property management companies, construction companies and home builders, architects, and much more.
Commercial Door Lock Types
We can install and service the following commercial door locks (grade 1):
Mortise Locks, Cylindrical Locks, Commercial Deadbolts, Knobs Locks, Lever Handle Locks
Glass Door Locks, Storefront Locks
Electric Strike & Magnetic Locks
Keypad Locks, Electronic Keyless Locks, Fingerprint Biometric locks
Alarm Locks, Panic Bar Exit Devices
File Cabinet Locks, Mailbox Locks and Padlocks
If your locks are damaged or in need of replacement for any reason, give OS Locksmith a call. We offer lock change services to residential and commercial clients. We also offer 24-hour emergency lock change services when you most need us!
You may need a replacement lock if:
You lock has become worn out, rusty or damaged
You struggle to open the lock, even with the right key
Your keys have been lost or stolen, causing security concerns
A break-in attempt has caused damage to the hardware
You have recently moved to a new house or relocated your office, and you want to make sure no one else has access to your premises
You want to upgrade your existing locks to electronic smart locks to enhance security
We change all types of commercial and residential locks from the leading manufacturers!
Whether you are interested in changing the locks of your new apartment or office space, replacing mailbox or file cabinet locks, or want to change your setup to electronic keyless locks, our trained locksmiths are here to help.
We can replace every type of lock, including electronic locks, fingerprint biometric locks, deadbolt locks, mortise locks, knob locks, lever handle locks, cylinders, commercial grade 1,2 locks, cabinet locks and mailbox locks.
Commercial Lock Replacement Services
Commercial facilities need stronger and more durable locks when compared to residential buildings, and may require additional features and functions. OS Locksmith can replace your locks and install  commercial locks that meet your requirements. Our locksmith will come to your business and offer you the appropriate solutions to choose from. The result is new locks and better security for your business.
Contact OS Locksmith today for lock replacement services with unbeatable quality and customer care. Call us any time, from anywhere
If you are moving to a new apartment or office space, your keys have been lost or stolen, or you want to benefit from a master key system, rekeying your home or business locks is a safe and cost-effective solution. OS Locksmith offers professional lock rekey services for residential and commercial clients.
If you want to know if your locks can be rekeyed, just give us a call!
Lock Rekeying Vs Changing The Locks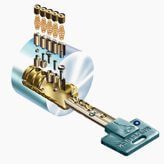 Lock rekeying involves changing the pins inside the lock. Your new set of keys will fit lock, and any old keys will no longer work. This makes lock rekeying a faster and more affordable solution than changing the lock (in changing locks we are replacing the entire lock). OS Locksmith's experts will assess whether your lock can be rekeyed, and will always offer the most cost effective solution for your situation.
Quality Rekeying For The Best Brands
We rekey all types of commercial and residential locks from the leading manufacturers! Whether you are interested in rekeying the front door locks on a new house or office space, rekeying your mailbox or file cabinet locks, or are considering rekeying all your locks to a master key system, our trained locksmiths are here to help!
We can handle every type of locks, including deadbolts, mortise locks, knob locks, lever locks, cabinet locks, mailbox locks and more.
Commercial Lock Rekeying
If you have moved to a new office or building, lost a set of keys or have been burgled, or former employees have keys which give them access to your property, commercial lock rekeying is likely the most affordable solution. Our fully trained and licensed locksmiths can visit your business and carry out an expert lock rekeying service, giving you new set of keys and full security for your business.
Rekey Lock to Master Key System
OS Locksmith provides master rekeying systems for both residential and commercial clients. This will give you a single 'master' key that can open every door, while other keys can be created to fit individual doors.
This is an excellent choice for many types of commercial building, and improves security and access control for businesses. Residential clients may find master rekeying useful when renting out rooms or apartments in the home, or simply for the ease of having one key to open every lock. Os Locksmith have the knowledge and experience to professional master rekey your home or business!
If your locks are worn out or broken, the keys have snapped in the lock or are getting jammed, or the locks don't work properly, you need to have them repaired as soon as possible to prevent further damage and inconvenience.
If faulty locks are left in disrepair, they can eventually cause lockouts and other lock problems, as well as making your home or business an easy target for break-ins. OS Locksmith have you covered! We offer lock repair services to residential and commercial clients
Repair or Replace? – That Is The Question!
When locks are faulty or broken, is it better to have them repaired or completely replaced? In a lot of cases, locks can be fixed with just a minor adjustment, or with a lock cylinder replacement. Our locksmiths will always do their best to repair the lock if possible.
In some cases, especially when the lock is older and has a high potential of causing more issues in the future, our locksmiths will recommend that you have the entire lock replaced. They will only offer this solution if it is more cost effective than repair, or if you decide to upgrade.
We offer door lock repairs for home or business locks made by the leading brands in the industry. We also have the most extensive range of locks available to replace your damaged lock if needed.
Business Lock Repair
Faulty locks can make it difficult for you and your staff to gain access to your business, can waste time and reduce productivity, and can lead to lockouts which seriously harm business activity. OS Locksmith trained locksmiths will come to your business and repair your locks quickly and efficiently to reduce the financial loss and stress associated with broken locks. We can repair all types of commercial locks (ANSI grade 1 locks), including deadbolts, mortise locks, high security locks, glass door and storefront door locks and more.
Contact OS Locksmith today for effective lock repair services. We will have your faulty lock repaired or replaced within no time!
Os Locksmith offers key duplication services for all types of keys: high security keys, regular keys, elevator keys, mailbox keys, cabinet keys and car keys. If you are interested in the creation of duplicate sets of keys for employees, family members or other personnel you've granted access to for your home, car or business, OS Locksmith can do that!
24 Hour Key Duplication Service
If you've ever been locked out of your home or business or experienced a broken lock or key, then you know how important key duplication service is. When you are locked out of your home or business, there is an urgent need for a qualified professional to help you as soon as possible. OS Locksmith wants to provide you with fast service, quality replacements and products and the reassurance that you will be back inside your home or office in no time.
Coming home, placing your key in the lock and having it break or the awareness of a missing key is a feeling we don't often experience. However, when it does, you need a reliable source to come and provide a fast solution.
When you need key duplication, rely on OS Locksmith to get the job done quickly and professionally. Calling upon a fully trained locksmith, you will have access to a highly trained individual who can go far beyond a key duplication machine in a store. Advanced training and techniques learned as a professional locksmith will duplicate even difficult keys with expert precision.
Duplication of Keys with OS Locksmith
Regular and Emergency Service Available
If you are seeking duplication of keys during business hours, you can call during regular business hours and arrange for service. If you find that you need an emergency key duplication, an emergency locksmith can be reached to provide fast and reliable after hours service.
We are committed to providing professional and reliable service at fair prices and attractive options. Call us now:
Your safe is where you or your company can securely keep your most valuable assets, such as cash, jewelry, and company papers. But what happens when something goes wrong, and you can't gain access?
OS Locksmith provides professional safe opening services to residential and commercial clients. We can open nearly any type of safe, including home safes, office safes, depository safes, and other commercial safes.
24/7 safe locksmith service: If you can't gain access to your safe, contact OS Locksmith today for a quick and easy solution!
REGAIN ACCESS TO YOUR SAFE
Whether due to mechanical error, or human error, we can unlock your safe using non-intrusive safe unlocking skills. Our trained technicians will respond to your call, and use a number of tools and techniques to grant you immediate access.
If possible, we will use methods such as dial manipulation or lock scoping to unlock your safe without causing any damage. This is not always the case, and sometimes we have to resort to drilling the safe with our special diamond drills.
If we have to drill your safe, we guarantee that we will not damage the contents, and will perform the necessary repairs to leave your safe ready for use again. Whatever the situation, the result is the same: OS Locksmith will gain access and leave your safe ready for service.
We also offer other safe services, including:
Combination Recovery
Combination Change
General Safe Maintenance Services
Dial Repair Services
Lock Upgrades
Battery Changes
If you need your safe or vault opening, contact Os Locksmith today. We will send our expert technicians to your location, and open your safe without damaging what's inside it. You won't have to replace your safe, or any of the components. We gain access in the least intrusive way possible, and leave you with a functional safe, as if nothing ever went wrong in the first place.
Contact OS Locksmith today for expert safe opening services.
Locksmith Service Areas
OS Locksmith provides emergency locksmith services all over Aliso Viejo, Costa Mesa, Fountain Valley, Garden Grove, Huntington Beach, Irvine, Laguna Beach, Laguna Hills, Laguna Woods, Lake Forest, Mission Viejo, Newport Beach, Santa Ana, Stanton, Tustin, Westminster . Whatever your locksmith emergency is, remember that our expert locksmiths are only minutes away.
Give us a call anytime, including weekends and holidays.